If you're looking for some of the best Uluwatu has to offer, Renaissance Bali Uluwatu Resort & Spa is a perfect staycation destination.
In my Youtube video and my write-up you can learn more about the Renaissance Bali Uluwatu Resort & Spa, food and the beachside hangout place Roosterfish where you can hangout during daytime!
Agnes Highlights (the 10 second review):
New luxury hotel in Uluwatu, Bali
Trendy and modern room design
Staff is genuinely happy and helpful
It's on my "Best Breakfast Buffet in Bali" list
You won't be disappointed, I can't wait to go back
Yes, you can go book your stay now or continue reading (and please subscribe to my Youtube channel if you found the information useful)
Renaissance Bali Uluwatu Resort & Spa Review
In tropical countries I truly enjoy the open air architecture, at the Renaissance Bali Uluwatu Resort & Spa the high ceilings lobby (pictured bottom left) overlooks the entire resort, and once you step out on the terrace you can see the ocean in the distance (pictured bottom right).

After check-in it was time to head to the room. The check-in process was fairly quick and stuff was attentive when I arrived, the luggage was immediately collected and delivered to the suite. I think that the check-in experience can vary depending on what time you arrive so if there are many people arriving at the same time you are bound to have some wait time.
Junior Suite Garden View, Balcony
Once I got my keycard it was to time to head to the room. Renaissance Bali Uluwatu Resort & Spa is a rather large resort so the first time you go to your room there will likely be someone to show you the way. And luckily, it was very convenient that my room was on the same floor as the main pool area and the restaurant where breakfast is served so jumping in an out of the suite to the pool area was a breeze throughout my stay. You can see this segment in my Youtube video as well.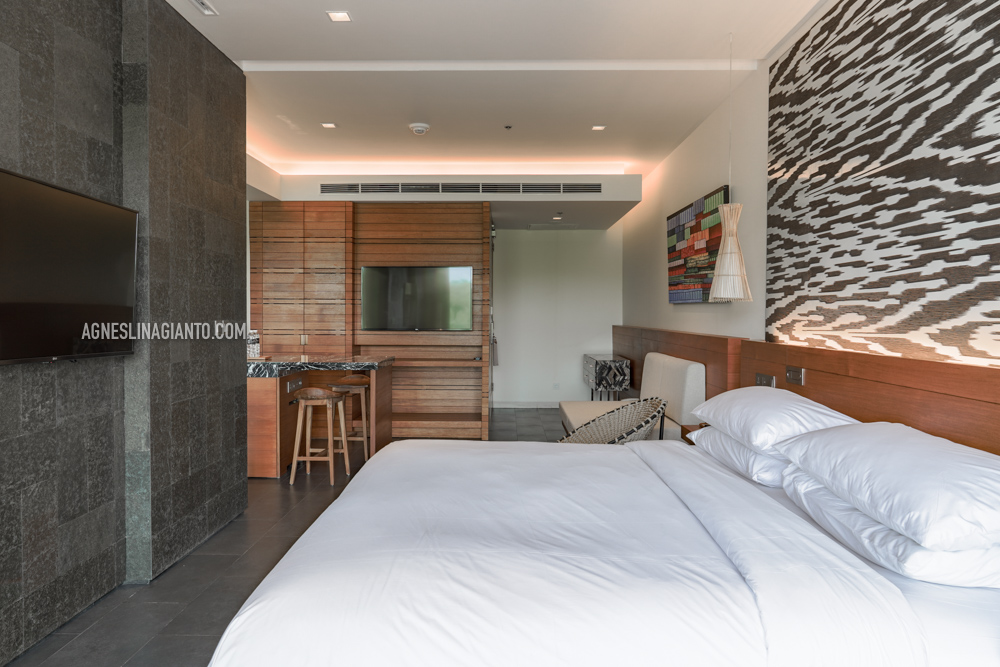 Renaissance Bali Uluwatu Resort & Spa is a newly built hotel so I was excited to see the room. I imagined it would have all the modern amenities you would expect and I was happy to see that the rooms surpassed my expectations.
Typically, most hotels built a "run of the mill" square suite, desk on one end, bed on the other and a washroom. But this suite was different, as you enter you see a rather modern design bedroom, trendy furniture that perfectly fits the "Bali vibe", then there is a bar in the center of the room, between the washroom and the bedroom. It felt more like a modern apartment then just another suite.



Room Service Dinner
After a day of activities by the pool and beach club (more on that later) I was very hungry. Once I showered I just wanted to relax in the room so I've opened some wine, turned on some relaxing music and ordered room service. Some of the recommended dishes from the menu were Angus Burger and Fish & Chips. Both meals were served quickly, while still warm and on nice serving plates. Burger and Fish & Chips always seem to be such simple dishes but it is often hard to experience once that stand out.
The Angus burger was very tasty and perfectly cooked, medium just as I have ordered it. The only thing I would improve upon is to make the egg more runny so that the egg yolk juices ooze out once you bite into it. Fish & Chips was also surprisingly tasty, some can be quite oily and doughy but what I liked about theirs was the very very thin and crispy crust, and the fish was tasty, steaming and juicy.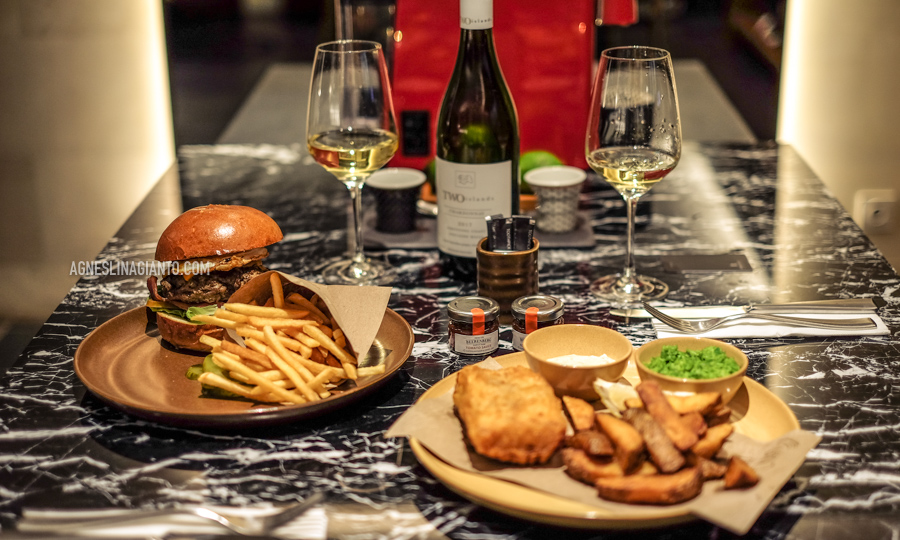 The Pool
The very next morning I woke up very early to go for a walk around the resort and also take pictures before other guests were up. If you like to swim for exercise then the large main swimming pool will definitely be large enough to do laps. The early morning felt so very peaceful, whether you would like to have an early morning dip, sit or have coffee near the pool area.
And to my surprise on this day you could see Mount Batur (see picture below) in the far North Bali, I had just arrived from North Bali before arriving to Renaissance Bali Uluwatu Resort & Spa and I remembered driving much closer to the mountain and taking photos of it also during sunrise.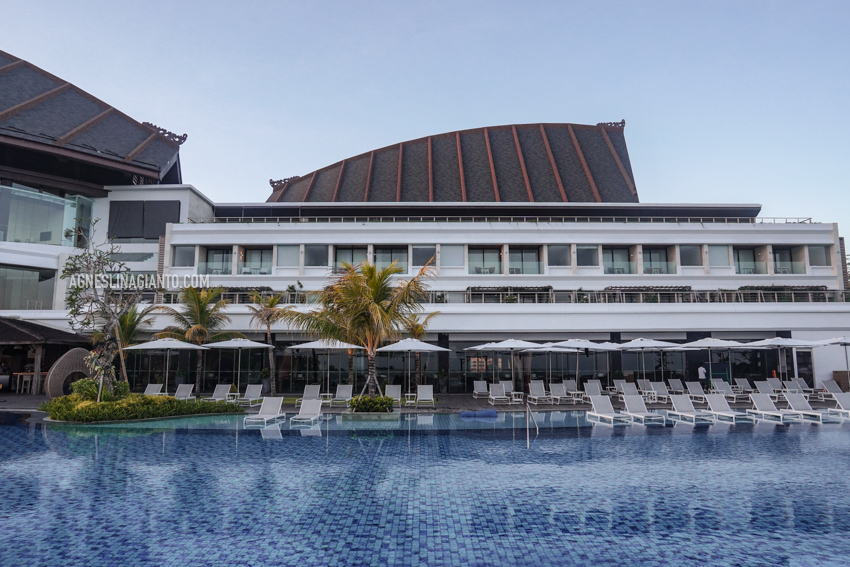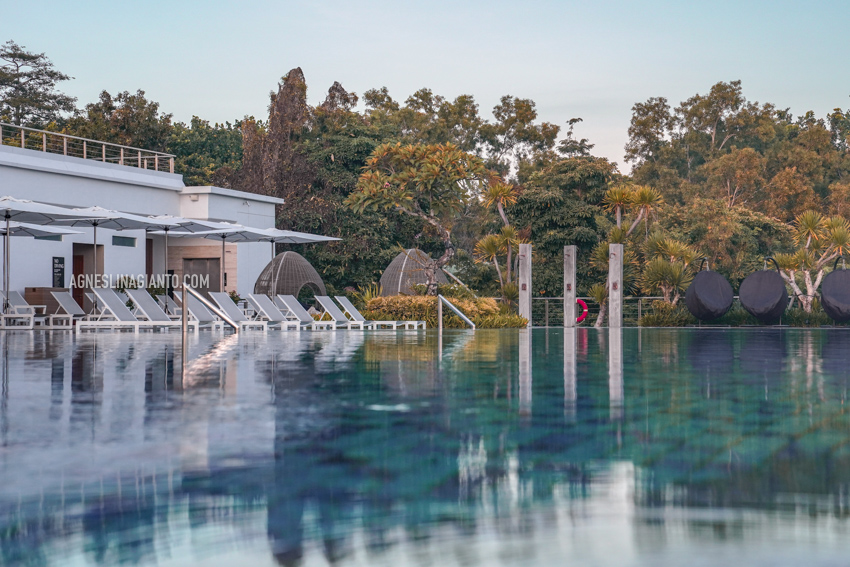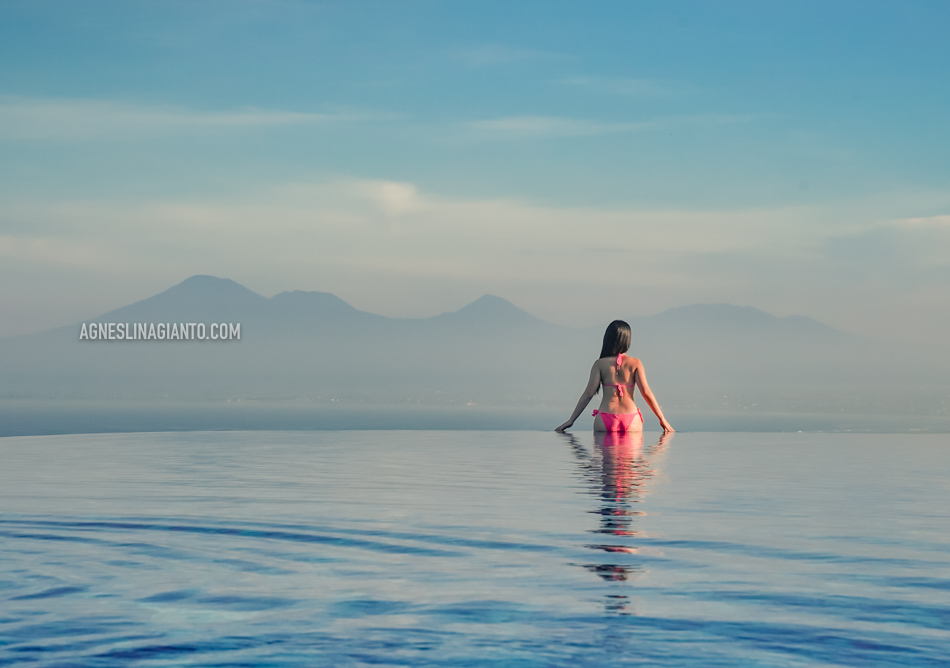 The Breakfast
One of my favorite breakfast things to do when staying at a large resort is to choose favorite foods and make my own breakfast dish. And boy was I impressed with the breakfast at Renaissance Bali Uluwatu Resort & Spa. Their breakfast deserves a gallery of its own and several pictures further below are just a glimpse of what's on offer.
This breakfast is one of the best if not the best hotel buffet breakfast in Bali. What sets it apart is the high quality of ingredients, variety and creativity in how the food is presented and served. For example, there is not just one type of muesli, but several, also several types of yogurts including coconut yogurt, then almond milk, cashew milk, soya milk and the list goes on. Then a very nice selections of cheeses and cold cuts, including my favorite, parma ham! Imagine this, you can also request freshly sliced avocado! (I know, I am getting too excited)
And there is also a large selection of bakery, different types of freshly baked crispy croissants, cakes, crepes, muffins and more. If you are a foodie and really want to enjoy a varied and quality breakfast every day during your holiday in Bali then Renaissance Bali Uluwatu Resort & Spa receives my personal recommendation, I truly look forward to staying there again just for the breakfast alone. Watch my Renaissance Uluwatu Youtube video to see more of the breakfast selections.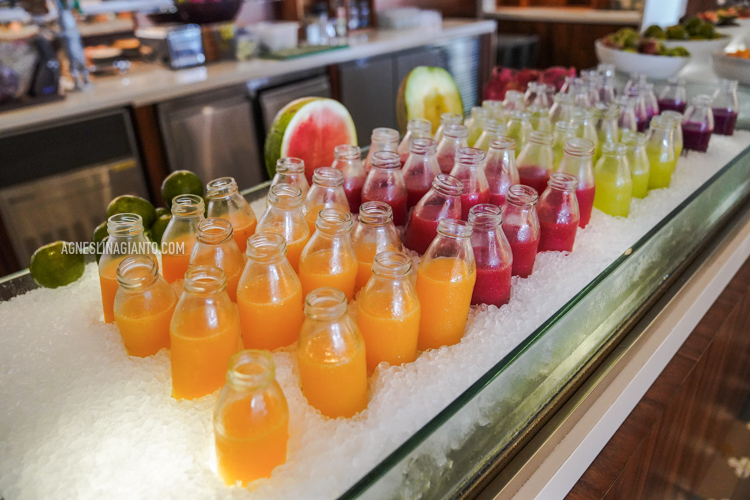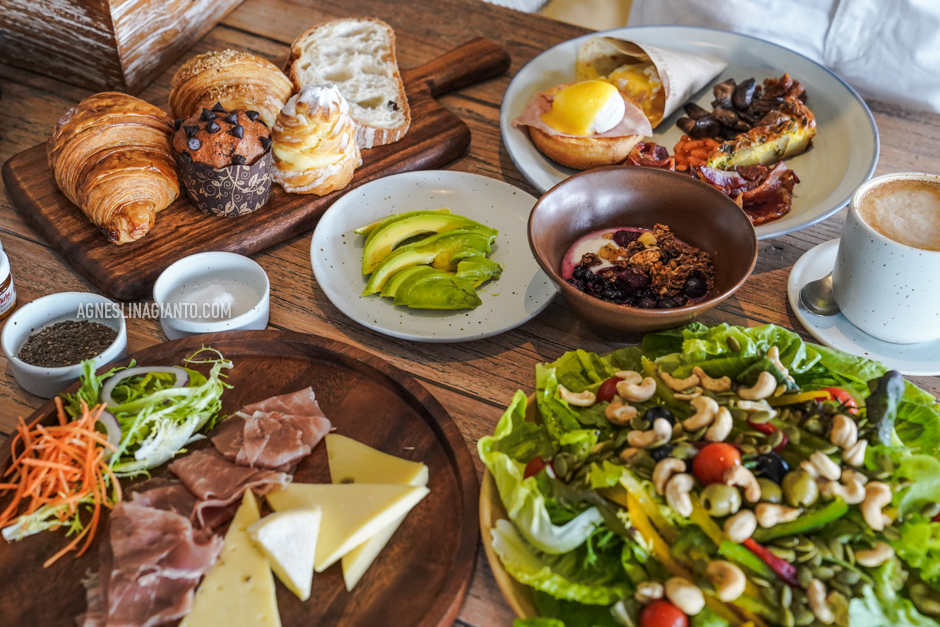 Book Your Stay
To learn more about Renaissance Bali Uluwatu Resort & Spa or to book your stay, visit their website: click here.
Message to You
Thank you reading my article, if you found any of the information or photos useful please Subscribe to my Youtube Channel and see new posts on Instagram.
Directions to Renaissance Bali Uluwatu Resort & Spa