Would you like to receive free hotel nights (worth up to $500 USD or more), complimentary wine or cocktails, 50% off dining at hotels in the Asia-Pacific region, access to significantly reduced hotel room sales, and VIP benefits when you check in?
Exclusive stays and dining advantages are available at more than 1,000 Accor resorts and hotels around Asia Pacific with Accor Plus membership. It coexists with the Accor Live Limitless program and provides a number of extra benefits throughout Asia Pacific. Find out how you can book a $220 USD room for only $16!
In this article I will share my Accor Plus member experience, the cost, a verdict whether it's worth it, and as a an example my recent stay at a Phuket resort, the Pullman Phuket Arcadia where I redeemed a complimentary night of stay for my holiday.
Review Accor Plus Membership 2022 Benefits
I have been an Accor Plus member for several years which has saved me over $2,000 dollars! I have redeemed my "free night" stays in Hong Kong, Indonesia, Thailand and even Australia. This included stays at Pullman , and Swissotel properties, and even Sofitel Darling Harbour in Australia where just one night of stay can completely offset the membership purchase cost.
There are several opportunities to use benefits for travel both domestically and internationally in the Asia Pacific region because Accor has a sizable number of properties. The following are some of the main Accor Plus membership benefits:
Stay plus complimentary night (1-2 nights depending on membership type)
Up to 50% off dininng at Accor properties in Asia Pacific
15% off your drinks in Asia
Automatic qualification for Elite Silver Status (offering value additions like two complimentary drink coupons and a potential late checkout)
Save up to 50% on your hotel or resort accommodation with Red Hot Room offers
Note: to see the full list of benefits visit the Accor Plus benefits page for your country as linked below.
Additionally, when you sign up you'll receive $50 USD worth of Rewards points. Hotel stays, Limitless Experiences, and advantages from Accor partners can all be paid for with reward points.
You can quickly pay off the annual Accor Plus membership charge if you take use of even a few of the advantages I've outlined above.
How much does Accor Plus membership cost?
| | | | |
| --- | --- | --- | --- |
| Country | Traveller | Explorer (1 complimentary night) | Explorer Plus (2 complimentary nights) |
| Thailand | THB 5,550 | THB 7,400 | not available |
| Singapore | SGD 308 | SGD 418 | SGD 538 |
| Australia | AUD 249 | AUD 399 | not available |
| Indonesia | IDR 2,250,000 | IDR 3,000,000 | IDR 4,200,000 |
| Malaysia | MYR 590 | MYR 780 | MYR 1,190 |
Which membership is right for you?
I personally hold Explorer Plus membership for which I believe to be the best choice. If you carefully select a property you could offset the purchase cost of the membership with the 2 complimentary nights.
For example, one of the nights I booked a few years ago was at the Sofitel Darling Harbour where a standard room rate starts from over $300 USD and most recently I stayed at Pullman Phuket Arcadia where a grand deluxe room rate can be as high as $227 USD!


Online reservations for the Stay Plus perk can be made up to a year in advance. The free night is totally refundable, so if your plans change, you can easily cancel it with no penalty up to one day before your stay.
Please be aware that the complimentary night is not guaranteed and is not offered at all Accor hotels in the Asia Pacific area. Standard rooms are often provided, although many hotels may let you upgrade for a nominal fee to a higher category room (even at check-in).
My Stay Plus perk also allows me to upgrade from a regular accommodation to a higher category. I have recently stayed at Pullman Phuket Arcadia and I was able to purchase an upgrade to a higher category for a nominal fee as well. Keep reading to see my Accor Plus experience at Pullman Phuket Arcadia.
Note however that Explorer Plus membership which grants 2 complimentary nights is not available in all countries.
Visit Accor Plus website to see details specific to your country and see further below which hotels particiapte in the program and where you can use your Accor Plus Membership.
Stay Plus Review | Pullman Phuket Arcadia
In this example you can see how I was able to book a Grand Deluxe room at Pullman Phuket Arcadia for only $16 USD! This room can go for as high as $227 USD depending on seasonality.
You might be wondering, what happened to my free stay? Free stays are offered for standard rooms, in this case it would have been the Deluxe Room. At some properties the booking system will allow you to upgrade to a higher category for a nominal fee such as is in this case, so for me it was worth it to upgrade to a larger 55 sqm unit. However, be aware that breakfast is not included on Stay Plus complimentary night bookings and you will need to pay for your breakfast.
To make things even better, once I had arrived to the property I was upgraded to Ocean Grand unit, it is the same type of unit but with a sea-view.

Check-in complimentary drinks | Pullman Phuket Arcadia
The check-in was standard, however as an Accor Plus member I have received a voucher for two complimentary drinks.
This was a nice addition and another example of membership benefits and the kind of services and potential savings you can expect during your stay. Two glassees of wine or cocktails would typically cost $15-$20 USD.

---

Complimentary hors d'oeuvre | Pullman Phuket Arcadia
In addition to the regular breakfast, there is a special benefit for Platinum level Accor Plus members. Platinum members are served complimentary hors d'oeuvre and two glasses of moët & chandon champagne.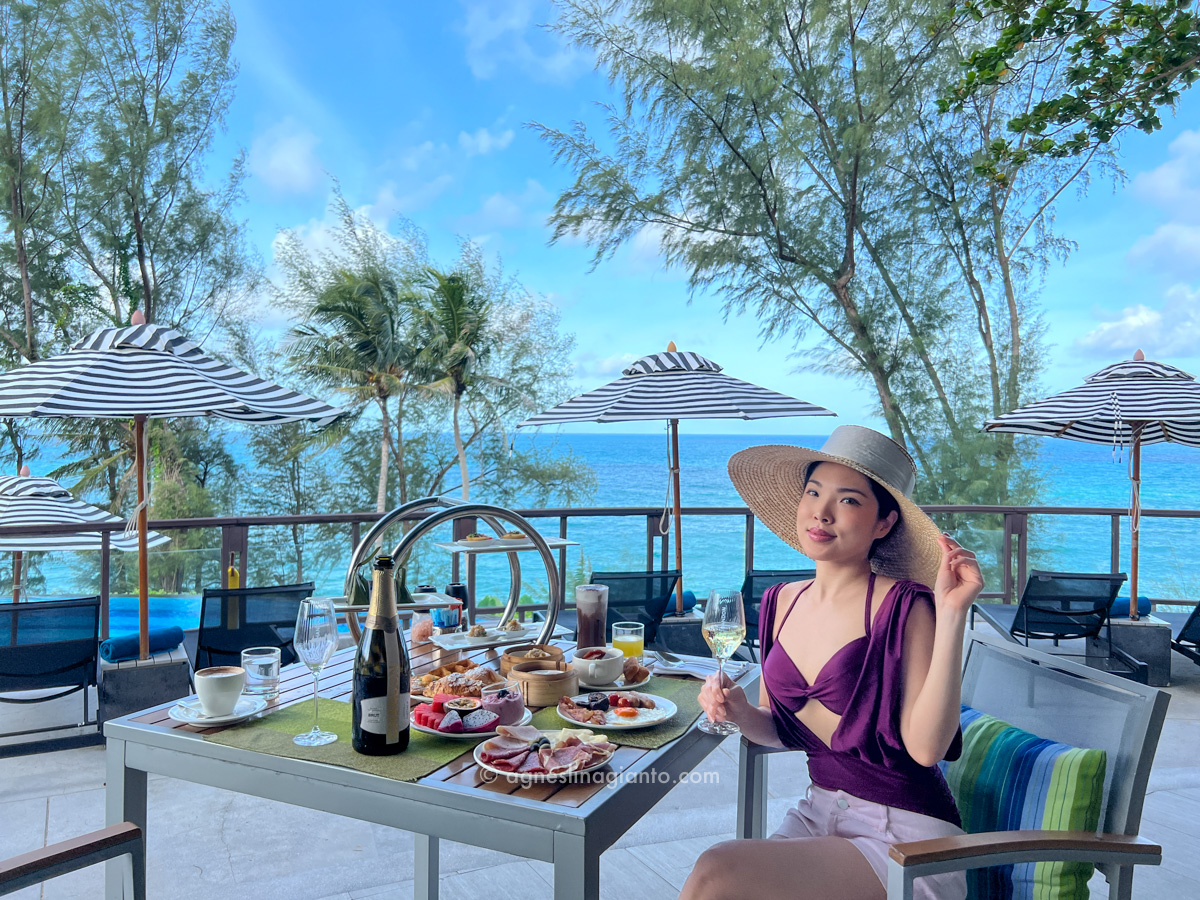 Stay Plus "Free" Phuket Accomodation | Pullman Phuket Arcadia
For my complimentary Accor Plus Stay Phuket accomodation I booked the Grand Deluxe room for which I had to pay a $16 USD "upgrade" fee from the standard Deluxe room.
The Grand Deluxe room can typically cost between $140 – $227 USD depending on seasonality. My stay was made even more pleasant as I was upgraded to an Ocean Grand room which is the seafront equivalent room of what I had booked.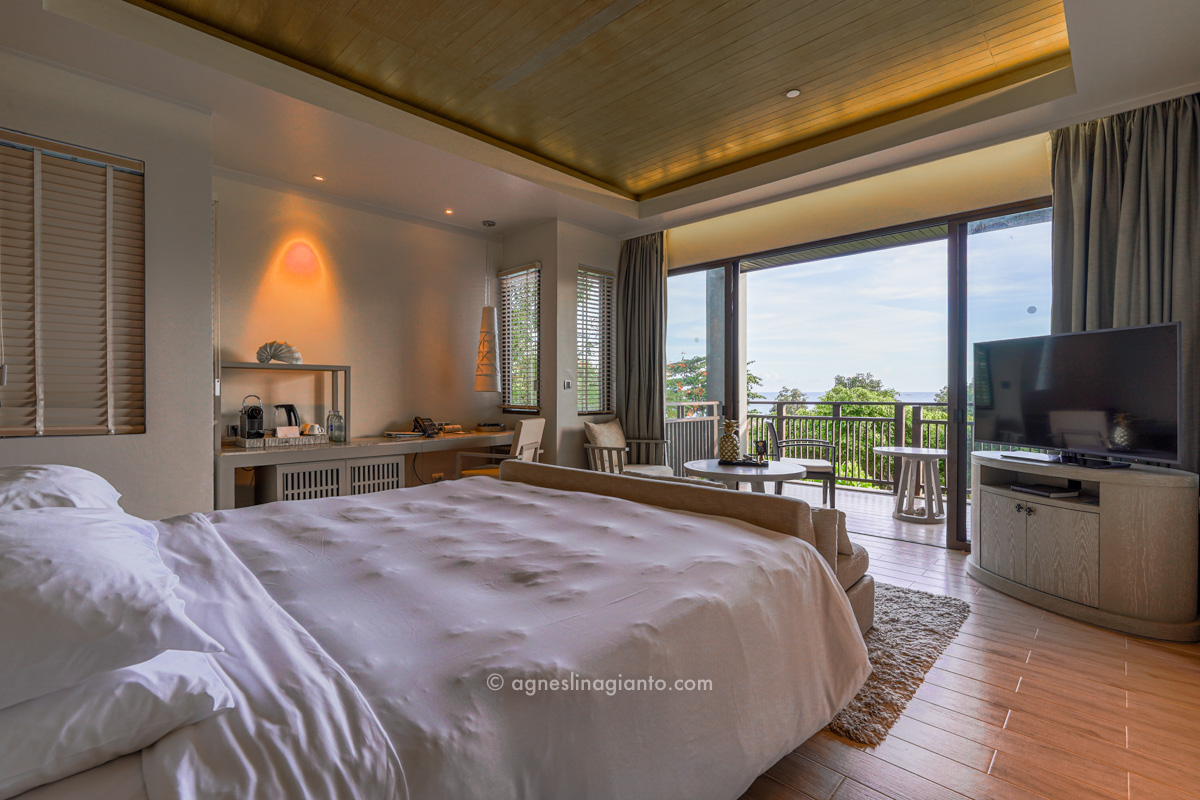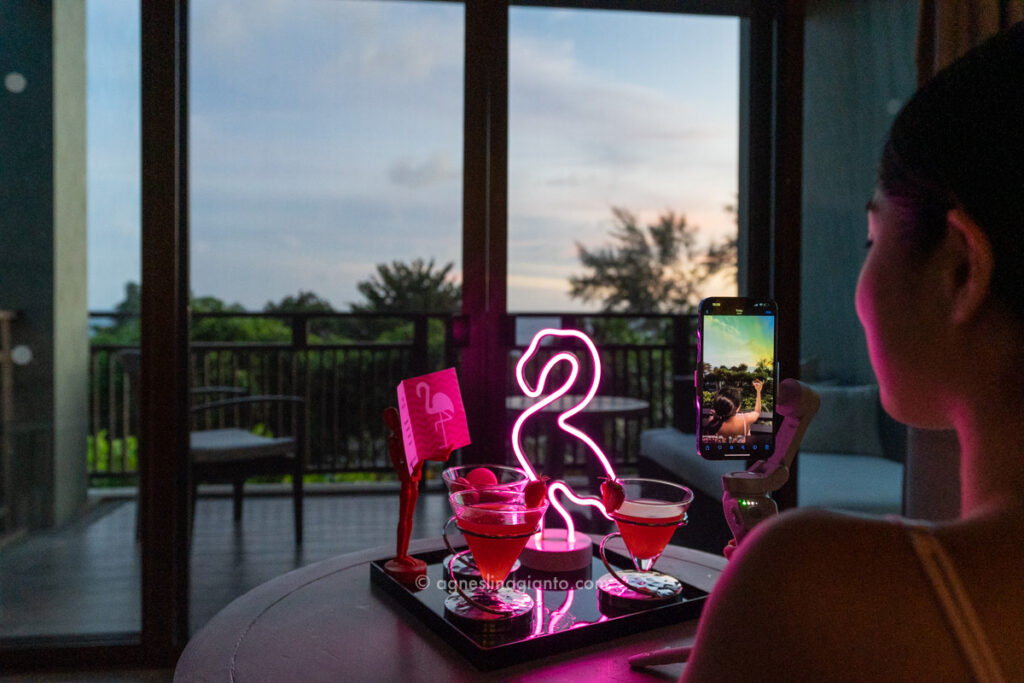 Afternoon tea in Phuket | Pullman Phuket Arcadia
You can save up to 50% when you dine in, note that this discount is valid for two guests only and depending on the number of guests the discount rate may change. To get the exact details check with the restaurant while you're making a reservation.
For example, you could dine at VERO, the italian restaurant at Pullman Phuket Arcadia and your bill will be cut in half. Note that the 50% discount applies to food only, and the discount on beverages is 15%. I did not personally dine at VERO but you can check their menu.
Alternatively, you could have drinks at C Bar lobby lounge or endulge in their "Play Tea" afternoon tea seat. It offers one of best views for an afternoon tea in Phuket experience and as mentioned, your Accor Plus membership will provide you with 15% discount.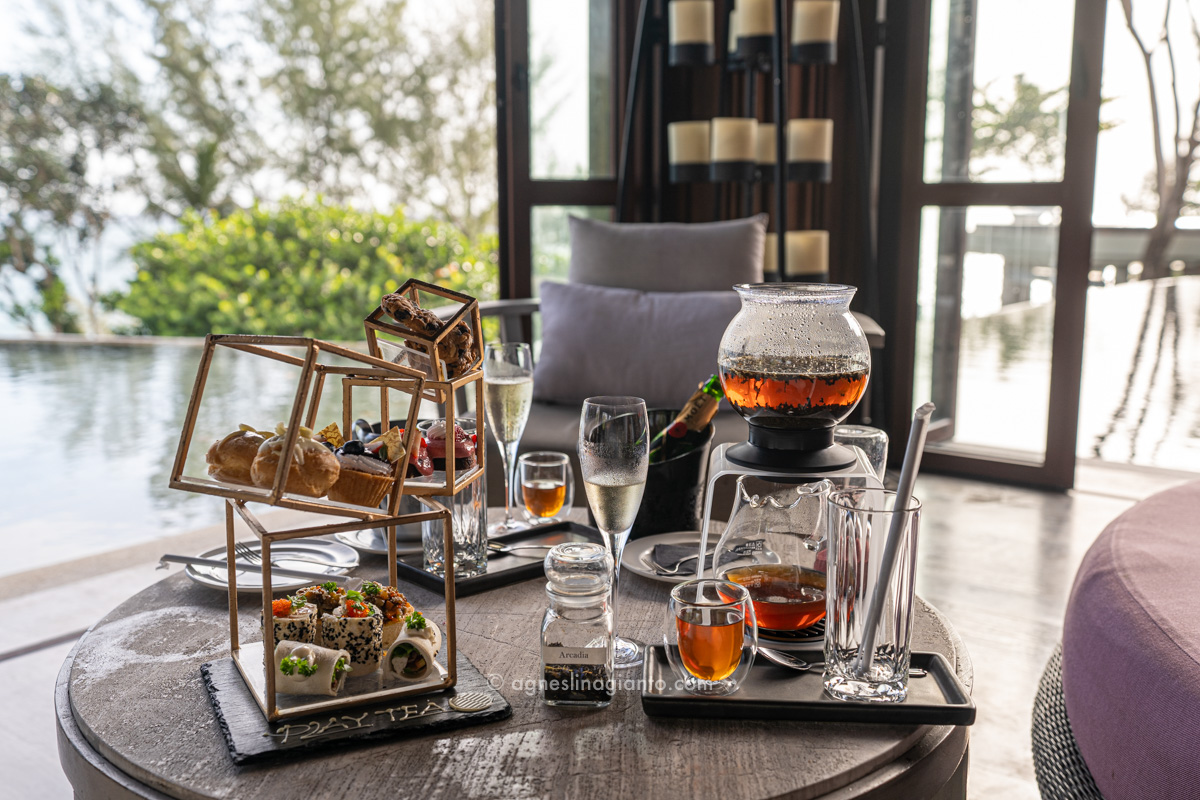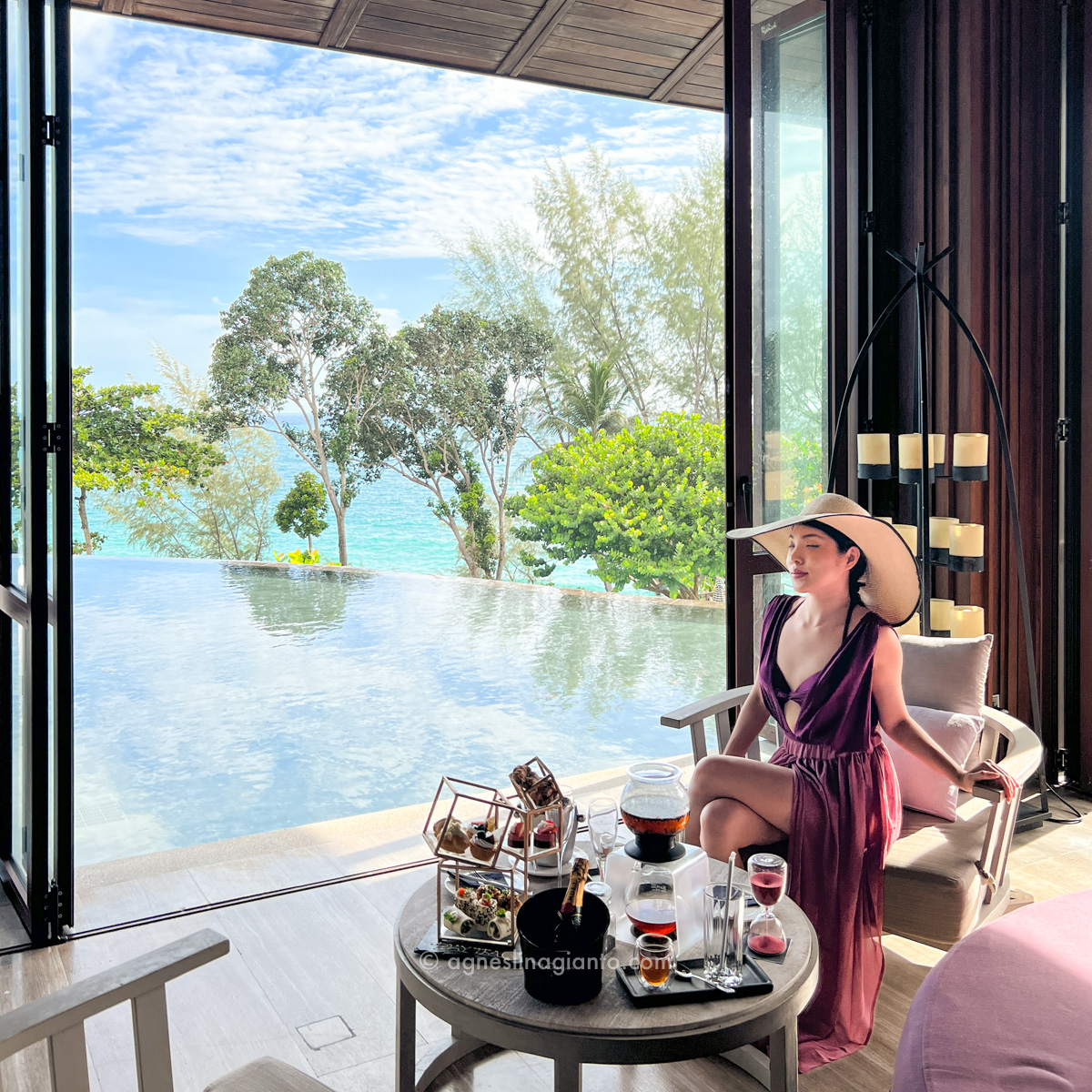 Accor Plus Membership | Is it worth it in 2022?
It's easy to understand why having an Accor Plus membership makes sense given the wealth of advantages available such as complimentary hotel stay worth over $500 USD or more.
Personally, I joined Accor hotel loyalty program several years ago as I was frequently travelling to destinations such as Hong Kong, Singapore or Australia where room rates can be at a premium. Over the years, I've been able to travel and eat more affordably thanks to my Accor Plus membership.
An Accor Plus membership can easily pay for itself if you plan well ahead and select properties carefully. In fact, as I've shown above, Explorer Plus members can entirely offset membership cost by utilizing the Stay Plus two free nights. In addition, you can make further significant savings with benefits like up to 50% off meals. Because of such beenfits it's clear why getting an Accor Plus membership is worthwhile.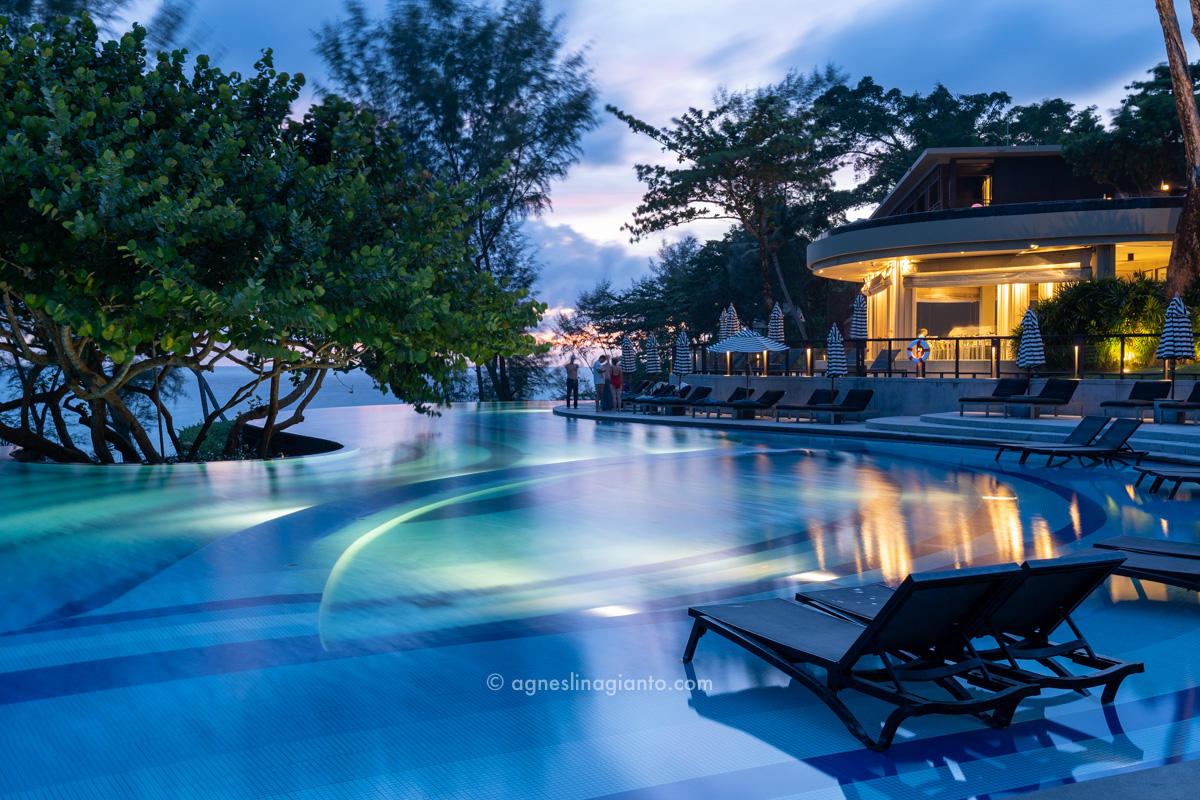 Pullman Phuket Arcadia contact information:
Accor Plus frequenly asked questions:
Which hotels participate in the Accor Plus Program?
Banyan Tree, Sofitel Legend, Fairmont, SO/Sofitel, Sofitel, MGallery, Art Series, Mondrian, Pullman, Swissôtel, Angsana, Grand Mercure, Quay West, Peppers, The Sebel, Mantra, Cassia, Novotel, Mercure, BreakFree, Ibis, Ibis Styles and Ibis Budget.
In which countries can I use my Accor Plus Membership?
Australia, Cambodia, China, Fiji, French Polynesia, Hong Kong, India, Indonesia, Japan, Laos, Macau, Malaysia, Maldives, Mongolia, Myanmar, New Zealand, Philippines, Singapore, South Korea, Taiwan, Thailand and Vietnam.
After joining, when can I use my Accor Plus membership?
Process time for new memberships is two business days. You will then get a confirmation email asking you to activate your membership when processing is finished. After logging into your account and accessing your digital card, you may download the Accor hotels App.
How much does Accor Plus membership cost?
Explorer and Explorer Plus memberships cost from $200 to $380 USD depending on the country of purchase, and memberships grant 1-2 complimentary nights of stay.